​Year of Change!
As 2019 comes to an end, it is a good idea to look back and reflect on the year. In a sense, 2019 is a historic year! It is the end of the decade. It brings with it the exciting start of what 2020 and beyond has to offer all of us. It is great to look forward to the future and all the possibilities. I am particularly excited about 2020 because 2019 was a year full of historic changes for my family​ and I​. As some of you may remember, Jan. 5th, 2019 was the day when we decided to close down our beloved Soltan Banoo Restaurant after 19 years of business.
As the anniversary of that date approaches, we celebrate all the​ good that has happened after the bittersweet closing of Soltan Banoo! My mother had been suffering from Vertigo and after a well deserved retirement, has made a rapid and remarkable recovery and is enjoying friends and grandchildren. My sister who started school a few years ago is due to become a Doctor of Physical Therapy​ next year. This year I had the unfortunate event of getting the worst back pain of my life and the pleasure of having a sister who was learning the latest and greatest techniques in treating a patient with back pain. I got to be her experimental patient and she was able to treat me to get better in a few day​'​s time as well as teaching me to continue exercises to make sure I ​n​ever have to experience so much pain!! She was not only a great host at the restaurant, but she has magical hands with her new profession as well!
If you are in the area and feel nostalgic for your old favorite restaurant, please stop by and see how we transformed Soltan Banoo into Pemberley Realty Group's office!! We still hold real estate mixers once a month on the 4th Wednesday of every month when ​all of our​ friends get to visit Mahin and Sanam and get a chance to taste some Persian food. Please join us to say hello and mingle with the family or meet friends who were regulars and neighborhood buddies.
This year we also expanded my real estate business and joined Compass! This was a tough decision as I have been an independent broker for 15 years! However, I thought Compass would bring opportunities for my clients and my team that were worth exploring. The transition has taken hard work but we have been able to offer great service and ​new opportunities to our clients and our agents.
Last but not least, our family ​has a new home and a new neighborhood after 15 years. The departure from our 1918 craftsman in University Heights ​has been bittersweet​. Our son was a year old when we moved into our Craftsman home. Now ​he is a ​tall 16 year old​!​ Our daughter was born in that 1918 craftsman that we love so much. ​We are all pretty excited to create new memories in our new home and have lots of parties with our friends!
​Our office manager, Brenda, who has been with my team for many years is also due to have a baby in June. We are super excited to welcome this new member into our Pemberley family and celebrate this new bundle of joy! ​
It is my sincere hope that ​you have lots to celebrate as you close the chapter on 2019 and welcome ​20​20 to be a year of wonderful things for you and your family as well. Please accept from all of us wish for a happy, healthy and prosperous year. May all your wishes come true and may you remember, in the words of C.S. Lewis, that "You are never too old to set another goal or to dream a new dream." Thank you for being a part of our lives and supporting us through our journey with your care, your friendship and your business.
Best wishes from Roxanne, her family at home as well as family at Pemberley Realty Group.
___________________________________________________________
Our Yearly vacation
Hello my friends! It is that time of the year to give the family update. I hope you have enjoyed your summer and have had a great time with your family and friends as well. As you might know, Christian, my husband is from Germany. We visited his family special year as my in-laws were celebrating their 50th wedding anniversary. We visited family and ate a lot of great food, of which cake was my favorite. Germans make the most delicious "Kuchen". After we ate our hearts out with homemade cakes, we squeezed in a little rendezvous vacation in neighboring Austria.
First destination was in the Alps, a tiny town by a beautiful lake called Hallstatt. Beautiful green rolling hills, decorated by high mountains with snow on top. The city was more like a doll house and built into the mountain with very few cars allowed in and it is so extraordinarily beautiful that the Chinese cloned it in China!
The view from the top of the mountains above Hallstatt is so amazing that the area is considered to be a world heritage site. We visited a huge cave, a glacier cave illuminated with lights and Mozart music as well as a look out with a fantastic view of Hallstatt.
Next was Vienna, where we learned about the beloved Empress Elizabeth, Sisi. In 1853 she
married the longest reigning emperor Franz Joseph and had a hard time with the court and Mother-in-Law. But when after coronation, she took control of political issues and was influential in forming the dual monarchy with Hungary. She also became an avid traveller, horsewoman and a fashion icon. Her liberal ideas and efforts for the poor and troublesome made her unpopular in her own country and she withdrew from public life in 1870. She was assassinated in 1898 by an Italian anarchist but she lives on today in pictures and stories and the magnificent palace of Schönbrunn or "beautiful spring".
The palace has famous gardens and has been a location for many films like the animated television series Little Einsteins in The Glass Slipper Ball episode. Empress Elizabeth's husband lived in the palace until the end of his life, never fully recovering from the loss of his beloved wife. Like Princess Dianna, Sissi still draws large numbers of visitors and admirers to her palace and museum from as far as Japan to Vienna. I highly recommend going to visit Austria and its heritage sites.
Thank you for joining me on this wild visit of Austria and
remember, I am back in town and ready to help you and your friends with all your real estate needs!
_________________________________________________________________
Our new office update
Hello my friends,
Time to have another letter to give you updates on what is going on with us! As you know we closed Soltan Banoo, our family restaurant, in January of this year. Then we got busy working on turning the restaurant into the new office for Pemberley Realty. When we closed the restaurant, my mom said she did not want another restaurant to go into the space. She said, " if they are successful, I will be jealous and if they are not successful, we have to worry that they won't pay rent! Move your office in there!" At first, I thought that is a crazy idea but then the thought started growing on me. I thought that is not a bad idea. It gives more exposure to the real estate business and it will be a bigger space which we need at this point. So a few months later, we have transformed the space into the new office for Pemberley Realty. Of course, you can still come and visit us and you can even still get some nostalgia food at the old "Soltan Banoo" if you come and visit us on the 4th Wednesday of every month for our "Happy Hours" from 5-7 pm.
You may or may not know that I started my real estate business the same year that we opened our first restaurant, Cafe Caspian. We lived in Mira Mesa at the time and when we opened Cafe Caspian we would stay open till 9 pm. Then we would have to clean up and prepare for the next day, so we wouldn't get home until 11 pm. This went on for a few months and then started to be a burden. I helped mom buy a house in Normal Heights so we could be closer to the restaurant. In the process of our search, we came across a for sale by owner listing of a man who was selling his house. At this point, I knew the market in Normal Heights like the back of my hands, so when I saw the house, I knew he was selling it way under market value. We bought the property and moved to the neighborhood and that is what started my real estate career!

I started as a new agent with Coldwell banker. At that
time, we had decided to add a wine bar to the restaurant. We pulled all the permits for construction only to find out that the city wanted another wine and beer license for the space because it was not attached to the restaurant so we decided to turn the space into my real estate office. The idea was to first make the space into a satellite office for Coldwell Banker. However, the real estate market crash of 2006 was a catalyst for me to start my own company, Pemberley Realty.
Pemberley Realty operated successfully since then until
today! The new year has brought new changes. With our new office in such a great location, we decided to spread our wings and join Compass Real Estate Group. We are excited to see what the horizon will have for us in the next few years. For now, my team and I, along with our agents are working hard to take care of our clients and take advantage of all the new resources and fresh ideas we can offer to our friends and family as a part of this new innovative real estate company.
_________________________________________________________________
Soltan Banoo Farewell
Good friends never say goodbye, they simply say "SEE YOU SOON"
January 2019 marks the end of an era for our family as our beloved restaurant, SOLTAN BANOO retires after two decades in University Heights. We started Soltan Banoo on love and named her after our great grandmother who was a brave and respected lady in our community.
Some of you may remember the days of Caspian Corner or Cafe Caspian across the street from our current location.
We opened Caspian Corner in 2000 when my sister Sanam and I were trying to convince our mom to move from NYC and join us here in San Diego. Her answer always was, "I'll make the move if you help me open a store". This idea was always there with no concrete plan of what kind of store, what would we sell, what could we offer to the community. As residents of Normal Heights, we passed Park Blvd everyday and one day we saw a for rent sign on a boarded up window in an old building and we thought, this would be the perfect little place for our mom's shop. We rented the place and called mom to tell her we have found the perfect little spot for her. This is when Caspian Corner was born. The "store" was initially meant to be a gift shop, then it turned into a coffee shop, and then evolved into a Persian eatery as we listened to our customers and tried to reinvent our little shop. Hence how we went from being Caspian Corner to Cafe Caspian.
As the first few years went by we realized that we had made a mistake not getting a permanent lease and we were being exploited by our then landlord so we started looking for an alternative location. It was with kindness of our friends at our current location that we made the move and the leap of faith to start SOLTAN BANOO in 2003.
Throughout the years, we have fed thousands of people, loved and enjoyed the company of many patrons, made lots of
lifelong friends and have evolved as a family. Our mom has become an icon within our neighborhood and our San Diego community.
As for me, my real estate business was born thanks to our family journey and Cafe Caspian. I helped my mother buy a for sale by owner property in Normal Heights so we could be closer to our restaurant. The purchase of the property were Soltan Banoo is housed became the birth of Pemberley Realty in 2003.
Sanam was inspired by the students of Mueller
college and Pacific College to pursue yoga and health. Her studies led her to a decision to study Physical Therapy and she will graduate with a Doctorate in two years. We owe so much of our identity to the UH community, friends and patrons. The love and support this community has given these "little women" a fertile stable ground to grow and flourish. Thank you all for the years of support and education.
Today after many months of soul searching and gut wrenching thoughts and evaluations, we have decided to retire our beloved SOLTAN BANOO. Our mom, Mahin is ready to enjoy retirement, Sanam is going on to a new career and I have my hands full helping the community with their real estate needs.
But don't despair. Our loving and caring grandmother, SOLTAN BANOO, is still out there protecting us and taking care of us. We are excited to announce that we are keeping the space in the family and grandma will be embracing PEMBERLEY REALTY to reside in her space. You can come visit Mahin, Roxanne and Sanam at Pemberley Realty. Mom will cook up some nostalgia snacks for Pemberley happy hour and catch up with all her friends. We would love to see you all for year to come. The move is bittersweet but we know that with your love and support, our family will continue to grow and prosper and enrich our community.
________________________________________________
The Anniversary Story of Roxanne & Christian!
My husband and I just celebrated our 13th anniversary. I wanted to share my happiness with my friends, so I posted a picture of us on Facebook. The feedback was overwhelmingly positive and supportive so I thought to share it with my online friends as well!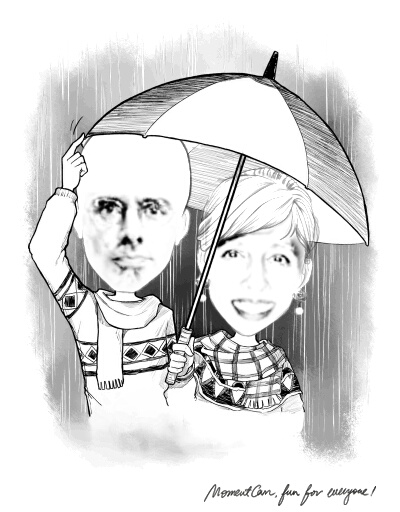 We met on September 15th, 2001. It is amazing how sometimes bad things bring about great things. Christian, my husband, was on a business trip from Germany. He was in San Francisco and when Sep. 11th happened, the airports closed. He called his office to ask them what to do and they said, we have an office in San Diego, "Go to San Diego and work there until airports open and you can fly back home". He drove down to San Diego and came to the office on the 15th. I was working as in IT for a pharmaceutical company and was in charge of setting up new hires. so I was to set up his computer and phone. It was love at first sight! He was in our office for two days and I found every possible excuse to go and visit him while he was there. Two days later, he flew back to Germany. I was frantically looking for a way to find him in our company directory when I saw an email from him. That one email, turned into several emails and then a visit from him in December. I went and visited him in February in Heidelberg, Germany where he lived. He moved here in April 2012 and we got married in May! Sometimes I think it was nothing short of a miracle that we met this way! Strange how the universe lines things up! 13 years later, we have two beautiful children, two cats and two dogs we all love. We feel blessed to live and own a home in San Diego and help others realize their dreams in owning their homes. So thank you for being a part of our lives.
By: Roxanne Govari
_____________________________________________________
A successful Transformation by Roxanne Govari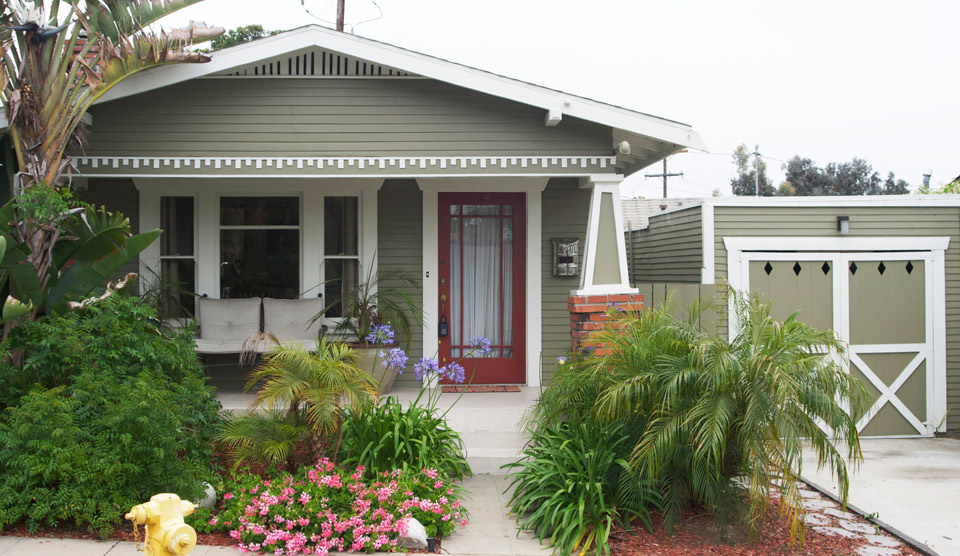 This month, I would like to share the story of a happy couple with whom we have recently been working. In 2008, I sold a house where I represented the sellers. As it is often the case, I kept in touch with the buyers and learned that they were going through some financial difficulties due to unforeseen medical bills. This situation caused the husband to over work which put a great strain on their relationship.
I called to see if I could help and we met to figure out what would be the best plan of action as far as their real estate assets were concerned. We concluded the best plan would be to sell their current house where they had accumulated some equity and buy something more affordable, so that they could use the extra money to pay off the debt and reestablish their life.
We sold their 2BR/1BA, 900 sq. ft. one car garage house and bought a 2 BR/2BA 1400 sq. ft. 2 car garage in a small quaint complex with a pool and plenty of parking. Their payment went from $2400 a month to $1700 a month. Now, my clients have been able to pay off all their medical
bills with the extra proceeds from the sale of the house and the husband was able to spend more time at home.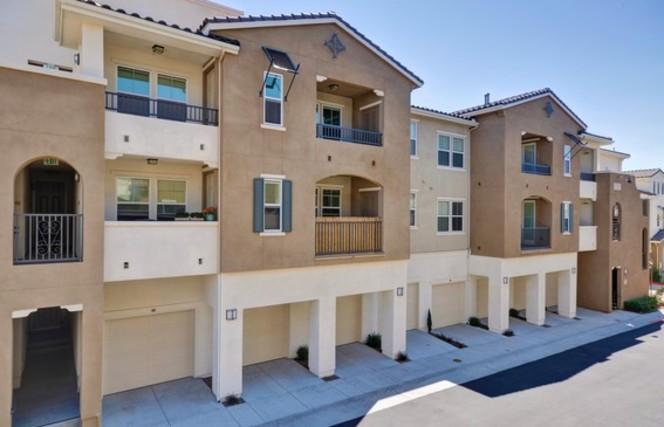 I recently spoke to them and found them very happy expecting their first child and financially confident to start a family. They walked a long road of several months of planning and working as a team, but they finally did it. We are proud to have been a part of their success and grateful for the opportunity to serve our friends and share in their joys and success.